First Multimedia Communications Workshop:
State of the Art and Future Directions

GENERAL AND TECHNICAL
PROGRAM CHAIR MESSAGE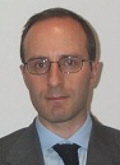 Juan Carlos De Martin
Multicomm 2006
General and Technical Program Chair
Politecnico di Torino, Italy
Welcome to the First Multimedia Communications Workshop!
The multimedia revolution is undoubtedly taking place. Never in history, in fact, humanity has had the opportunity of accessing so much audio and video content, from such a large variety of sources and for purposes so diverse that include both pure entertainment and scholarly pursuits.
The multimedia revolution, however, is still far from being over; many issues remain open to debate and competing visions of the future continue to vie for supremacy. It is, therefore, the right time to discuss what is the future of multimedia delivery, quantitatively addressing questions such as the role of streaming in an increasingly download-based digital world, peer-to-peer multimedia communications, multimedia over ad hoc mobile networks, DVB-H, packet videoconferencing, video sensor networks, 3D television, car-to-car and car-to-roadside signal communications, and other evolving and emerging applications.
The goal for this workshop is to offer a unique, focused opportunity to gather and discuss with peers the state of the art as well as the most interesting potential new directions of multimedia communications.
We would like to thank all the authors who responded to the Call for Papers, regardless of whether their papers have been included in this workshop or not due to space limitations. We would also like to acknowledge the contribution of many experts who participated in the review process, and provided helpful and valuable suggestions to the authors on improving the content and presentations of the articles.
We whole heartedly thank the ICC 2006 Organizing Committee for their support, and in particular Dr. Abbas Yongacoglu for his kind and constant support. We also thank the IEEE Multimedia Communications Technical Committee and in particular Dr. Heather Yu for her advice, energy and relentless encouragement from the very early stages of this initiative.
We hope you will enjoy Multicomm 2006!